Arktura
Category: Acoustical Applications
Product: SoftGrid® Flux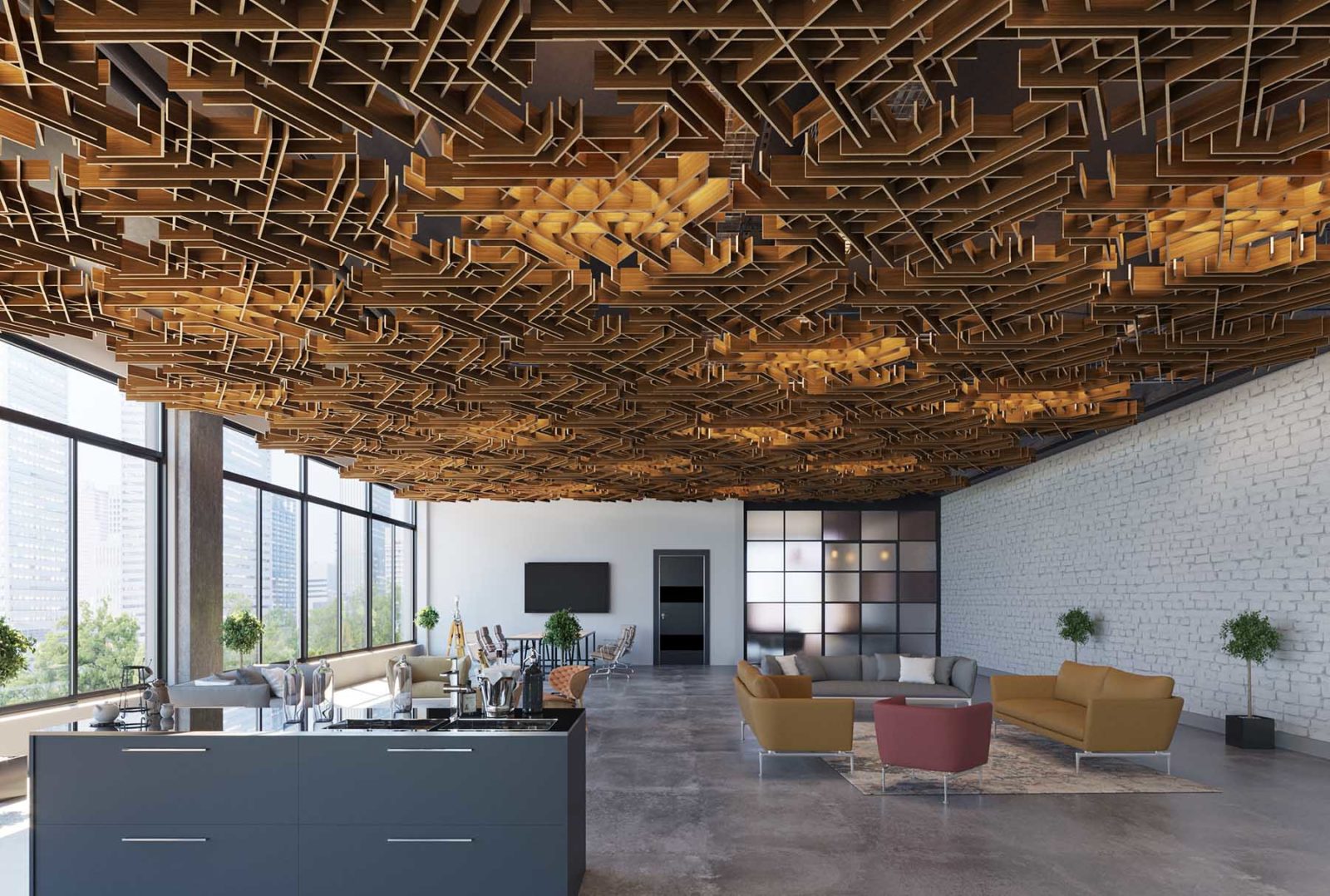 SoftGrid® Flux is an innovative hexagonal ceiling system that combines sound attenuation and beautifully intricate detailing, in a flexible, scalable, easy-to-install package. It delivers a unique aesthetic and significant noise reduction through its detailed fin layout and construction from our high-performance PET Soft Sound® acoustical material. This fully recyclable material is lightweight and durable, NRC rated up to 0.9, and made from up to 60% recycled plastic, helping reduce Flux's impact on the environment. Choose from a wide range of Soft Sound® colors, as well as natural wood textures, to achieve the look of real wood, without sacrificing a single tree, or acoustic performance. All options are class A fire rated, and able to be mixed and matched as desired in layouts to style your ceiling in a variety of impactful ways.
Halcon
Category: Contract Furniture – Systems, Case Goods, Desking
Product: HALO office
HALO Office brings lasting beauty and innovation to the workspace.
Encircled by the HALO soft edge, unique protection is provided for both desk and chair with patent-pending impact-resistance. Cleanly integrated adjustable-height controls, smart cable management, and breathtaking cantilevered surfaces create functional, visually-stunning desking solutions.
Thoughtful, modern storage components configure to meet every need and create perfectly-tailored solutions for your unique office.
Halcon
Category: Contract Seating – Bench and Stool
Product: OXER
OXER incorporates minimalist lines into a bench seating design that speaks to simplicity and modernism. Each bench includes a gracious seating cushion and convenient table surfaces at each end of the bench. Optional power integration, including wireless charging, result in a clean, nearly invisible technology interface.
Halcon
Category: Contract Furniture – Tables
Product: STRATOS
Designed by Jehs+Laub, STRATOS is a study of statics, materials, and technology. The result is a meeting table that exudes strength while remaining light, modern, elegant.
STRATOS pairs modern, timeless design with a flexible, parametric system to create table solutions of any size and shape. Multiple power & data interfaces offer more choices in technology selection, including dual-flipping power access grommets and power modules around the surface perimeter. A formed metal base supports any surface size and shape, expanding its stable structure to adapt to every room. The beautiful form is complemented by the soft curves of the table surface, bringing people together to collaborate and achieve.
Mecho
Category: Product – Innovation, Window Treatments
Product: Solartrac 4.0
SolarTrac 4.0 is Mecho's new, state-of-the-art automated window shading system will raise and lower solar window shades in a building to allow building occupants to take advantage of natural light while blocking unwelcome and potentially harmful solar glare and heat gain.
In a building without shade automation, people will lower window shades to block the sun. However, they usually won't raise them to take advantage of natural light and its benefits. With SolarTrac 4.0, building occupants never need to worry about shade adjustment as the system will raise and lower shades for them.
To determine shade position, SolarTrac 4.0's sophisticated algorithms consider a building's GPS location, orientation to the sun, time of day, day of the year, and any shading or reflected light from other buildings to position shades in the right place at the right time. This will maximize natural light while blocking solar glare and heat gain. SolarTrac 4.0 can be installed to control shades on a single floor, façade, entire building, or complete campus.
SolarTrac 4.0 also preserves building aesthetics since all shades raise and lower simultaneously to a pre-determined height. This preserves architectural and design intent by eliminating the "crooked teeth" look commonly seen in buildings with non-automated shades.
With SolarTrac 4.0, it is possible to save up to 70% in lighting costs due to less reliance on artificial light. SolarTrac 4.0 can also reduce demands and related costs on HVAC systems and improve building energy efficiency which may contribute to valuable LEED and WELL certifications.
SolarTrac 4.0 is PC-based and can manage more than 1,000 shade zones and accommodate up to 100 simultaneous users—on-site or remote—to monitor and adjust shade movement.
SolarTrac 4.0 shade control also integrates seamlessly with third-party A/V, lighting, security, and HVAC building automation systems for peak building efficiency.
Mecho
Category: Product – Innovation, Window Treatments
Product: IQ2-DC
The IQ2-DC adds motorized solar shade control to windows in order to eliminate the intrusion of unwanted and potentially harmful solar heat and glare. By motorizing solar shades, windows that are large, have a unique shape or are in a hard-to-reach location can have daylight control where manual systems are impractical. This not only controls daylight, it helps preserve an architect's design intent for light in interior spaces.
The IQ2-DC operates at only 38dBA which is the sound level of falling rain. The near silent operation makes this motor ideal in areas where silence is highly desired such as libraries, hospitality facilities (e.g. restaurants, hotels, and conference centers), healthcare, and education settings.
As a motorized shade, the IQ2-DC makes solar control now readily available for people with mobility issues or limited physical strength to raise and lower shades to adjust daylight to suit their own personal comfort levels. With its silent operation, the sound of the IQ2-DC in operation is in the background and not a distraction or interruption.
The IQ2-Dc also features technologically advanced engineering that, when installed with 2-way communication, alerts facilities staff of any potential maintenance or operational issues before they cause an interruption in the shade's function. This prevents shade damage, reduces the risk of unnecessary repairs, excess wear and tear, and unplanned downtime.
The IQ2-DC can operate as a standalone shade motor controlled by a switch in a single room, or, can seamlessly integrate into any of Mecho's automation systems that control shades on an entire floor, or complete campus. This motorized system can also contribute to LEED and WELL building certification.
Mecho
Category: Product – Window Treatments
Product: Mecho/5x
Studies have shown that access to daylight is crucial in corporate, education, healthcare, and hospitality settings to improve occupant productivity, test scores, healing, wellness, and an overall experience. Unfortunately, along with daylight comes unwelcome and uncomfortable solar glare and heat gain.
The challenge is that some window shades, due to their size or weight, are difficult to raise and lower in order to control glare and heat gain.
The new Mecho/5x, with its built-in lifting assist mechanism, allows for easier raising and lowering of solar shades. The Mecho/5x allows individuals to lift larger, longer, and heavier single shades or more multi-banded shades (up to five shades) with less effort to control the intrusion of solar glare and heat gain.
The Mecho/5X is ideal in any place where large or multi-banded shades need to be lifted, or, where people have limited physical strength to raise and lower shades to adjust the level of daylight to their personal comfort level.
Since the Mecho/5x can easily lift multi-band shades, the shades raise and lower at a constant speed and to the same level. This eliminates multiple chain pulls and helps preserve design intent by keeping shades at a uniform height. Using the Mecho/5x to lift larger single shades also eliminates multiple chain pulls in addition to "light leakage" at shade edges.
The Mecho/5x also features a re-engineered chain pull to add a greater angle of pull for increased versatility and ease-of-use. This added angle of chain pull is especially valuable when there are furnishings, equipment, or other obstructions in front of a window. This increased angle prevents individuals with compromised physical capabilities or balance from having to lean to use a shade pull.
Moroso
Category: Contract Seating – Sofa
Product: Heartbreaker
The stylistic hallmark of Heartbreaker sofas lies in the design of the armrests, which represent the halves of a heart, or a broken heart, and which whimsically combine to form a full heart when sofas are placed side by side. Hence the name, which playfully alludes to a broken heart or ironically to a "heartbreaker".
The Heartbreaker collection of sofas was designed as a system for the contract market: the project combines pure, geometric shapes with the utmost comfort, making the product, which was designed for heavy duty, suitable also for residential use.
"Heartbreaker is an almost archetypal "big hotel sofa" interpreted in an ironic POP key with a play on shape, without losing sight of function and comfort. Extreme customisation means there is a huge variety of fabrics and finishes available, enabling sofas to be created to meet all requirements." Patrizia Moroso
The product's second distinguishing feature is the metal base profile available in a variety of finishes, which visually elevates and lightens the sofa's substantial volume, lending it grace and personality, almost as if it were the Danish designer's signature for Moroso.
"An old saying goes, the greatest love songs are written by songwriters with broken hearts – that was also the case when I designed the Heartbreaker sofa system. It may seem like a cliché, but it was in the scribbles during sleepless nights that this almost obvious shape took form, helping me to express my emotions through drawing." Johannes Torpe